Are you tired of spending your hard-earned money on movie tickets and subscriptions?
Well, you're in luck! In this article, we will explore the various ways to watch movies for free and save some cash while still enjoying your favorite films.
So, sit back, relax, and let's dive into the world of free movie streaming!
How to Watch Movies for Free Online?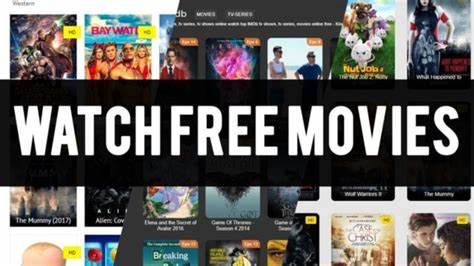 1. Streaming Services with Free Trials:
Many popular streaming platforms offer free trials to new subscribers.
Services like Netflix, Amazon Prime Video, and Disney+ provide a limited-time free trial period that allows you to explore their extensive movie libraries.
Just remember to cancel your subscription before the trial ends to avoid any charges.
Recommended
:
Download Movies from Jio cinema
2. Ad-Supported Streaming Platforms:
Several platforms offer a selection of movies for free, supported by advertisements.
Crackle, Tubi, and Popcornflix are some of the top choices in this category.
These platforms offer a diverse range of movies, from classics to recent releases, without requiring a subscription fee.
You can create an account for free within few steps and start streaming directly as simple as that.
3. YouTube:
YouTube is a treasure trove of free movies, though they may not always be the latest releases.
Many independent filmmakers and content creators upload their work, and you can often find full-length movies available legally.
Just search for the movie title followed by "full movie" to discover hidden gems. Be cautious, though, as some uploads may violate copyright laws.
4. Public Domain Websites:
There are websites that host movies in the public domain, which means they are no longer under copyright protection.
Websites like Internet Archive, Public Domain Torrents, and Open Culture offer a wide selection of classic movies that you can watch for free.
These films are part of the public domain, so there are no legal issues associated with viewing them.
Recommended
:
Download Movies from Telegram
5. Library Streaming Services:
Some local libraries have partnered with streaming services like Kanopy and Hoopla to offer free access to movies for their patrons.
All you need is a library card to start streaming a variety of films, including documentaries and indie movies.
It's a fantastic way to support your local library while enjoying free movies.
6. Legal Apps with Free Movie Sections:
Apps like Pluto TV and IMDb TV offer free movies as part of their content libraries.
These platforms typically provide a mix of classics and recent releases, and they are ad-supported to keep the content free.
You can download these apps on your mobile device or access them through smart TVs and streaming devices.
7. Check Out Social Media:
Occasionally, movies are made available for free on social media platforms like Facebook and Twitter, especially during promotional events.
Keep an eye on your favorite film studios' social media pages for announcements.
This can be a great way to catch a free screening of a recent release.
8. Torrenting with Caution:
While torrenting movies is an option, it's essential to proceed with caution.
Downloading copyrighted material without permission is illegal in many countries and can result in legal consequences.
If you choose this route, make sure to use a VPN to protect your identity and privacy.
Additionally, consider using legal alternatives whenever possible to avoid potential risks.
9. Free Trials of Premium Channels:
Some premium cable channels like HBO, Showtime, and Starz offer free trials through their respective apps.
These trials typically last for a week or more, giving you access to a vast library of movies and TV shows.
Just be sure to cancel the trial period before it converts automatically into a paid subscription.
That's annoying, isn't it?
10. Educational and Non-Profit Websites:
Websites associated with universities, museums, and non-profit organizations often host documentaries and educational films for free.
These platforms aim to provide valuable educational content to the public.
Examples include PBS, TED, and the National Film Board of Canada.
11. Create Your Movie Night Experience:
Enhance your free movie-watching experience by creating your movie night ambiance.
Set the mood with dimmed lighting, comfortable seating, and your favorite snacks.
Whether you're streaming from a laptop, tablet, or smart TV, optimizing your viewing environment can make the experience more enjoyable.
12. Explore Movie Blogs and Forums:
Movie enthusiasts often share valuable insights and recommendations on blogs and forums.
Websites like Reddit, Letterboxd, and IMDb's message boards are great places to discover hidden gems and engage in discussions about your favorite films.
Users often post links to legal sources where you can watch movies for free.
13. Free Trials for Premium Streaming Aggregators:
Some platforms act as aggregators of free content from various sources.
Services like JustWatch and Reelgood allow you to search for movies and TV shows available for free across different streaming platforms.
They often provide information on where you can find specific films without any cost.
14. Utilize Your TV Provider:
If you have a cable or satellite TV subscription, I'm still using my TV like an old school, check and confirm if your provider offers an on-demand service.
Many TV providers offer a selection of movies and TV shows that you can stream for free as part of your package.
This can be a hidden treasure of free content you may not be aware of.
15. Stay Updated with Streaming Platform Offers:
Streaming platforms occasionally run special promotions and limited-time offers that grant free access to their content.
For example, during major sporting events or holidays, platforms may provide free access to select movies.
Keep an eye on news and announcements from streaming services to take advantage of these opportunities.
16. Mobile Apps for Free Movies:
There are mobile apps available for both Android and iOS that curate free movie content from various sources.
Apps like Tubi, Vudu, and Popcornflix have user-friendly interfaces and extensive movie libraries.
You can watch movies on the go or cast them to your TV for a larger viewing experience.
17. Legal Torrenting Sites:
In recent years, some websites have emerged that offer a collection of legally distributed movies through torrenting.
These sites partner with filmmakers and distributors to provide content to users for free.
Make sure to verify the legality of the site before downloading.
18. Support Indie Filmmakers:
Many independent filmmakers release their movies for free on platforms like Vimeo and YouTube.
By watching and sharing their work, you can support emerging talent in the film industry.
It's a win-win—you get to enjoy unique content, and filmmakers receive recognition for their efforts.
How to Watch Movies for Free on Streaming Platforms?
Now that you know where to find free movies online, let's delve deeper into the process of watching movies on streaming platforms.
Here's a step-by-step guide to get you started:
Search for the Movie: Enter the title of the movie you want to watch in the search bar of the streaming platform. Be specific with your search to get accurate results.
Select the Movie: Once you find the movie you're looking for, click on it to access the streaming page. Check for any age restrictions or other limitations before proceeding.
Play the Movie: Click on the play button, sit back, and enjoy your favorite movie. Some platforms may show advertisements before or during the movie, so be patient and remember, it's all part of the free experience.
Are Free Streaming Websites Safe?
When exploring free movie streaming websites, it's crucial to prioritize safety and security.
While some websites may offer a treasure trove of movies, others may be riddled with malware or illegal content.
Here are some tips to ensure a safe streaming experience:
Use a Virtual Private Network (VPN): A VPN encrypts your internet connection, protecting your identity and data from potential threats. It also allows you to access geo-restricted content.
Research and Read Reviews: Before using any free streaming website, do a quick online search to check its reputation. Read reviews from other users to get insights into the website's safety and reliability.
Install an Ad Blocker: Free streaming websites often rely on ads to generate revenue. However, some ads may contain malicious software. Installing an ad blocker can help you avoid unwanted pop-ups and protect your device.
The Legalities of Watching Movies for Free
While free movie streaming websites may be tempting, it's essential to address the legal aspects of watching movies for free.
Unauthorized streaming or downloading of copyrighted content is illegal in many countries. Engaging in such activities can result in fines or other legal consequences.
To watch movies for free legally, consider the following options:
Public Domain Movies: There are numerous movies available in the public domain, meaning their copyrights have expired or were never established. You can find these movies on platforms like the Internet Archive or even YouTube.
Free Trials and Offers: Many streaming services offer free trials for a limited period. Platforms like Netflix, Hulu, and Amazon Prime Video often provide such promotions. Take advantage of these trials to watch movies legally and without breaking any laws.
Original Content from Platforms: Some streaming platforms, like Tubi and Crackle, offer a selection of movies and TV shows that you can watch for free. These platforms have partnerships with content creators, ensuring the legality and safety of their offerings.
Conclusion
Watching movies for free is not only a great way to save money but also provides endless entertainment options at your fingertips.
By utilizing the various streaming platforms, websites, and legal alternatives, you can enjoy your favorite films without spending a dime.
Just remember to prioritize safety and legality while exploring the vast world of free movie streaming.
So go get some popcorn and set everything up to watch movies for free online.
Enjoy the show!